National Best Selling Author and Filmmaker Leo Sullivan Launches New Movie "Summer Madness" on Amazon Prime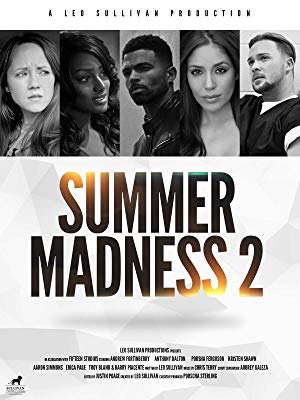 Atlanta, GA (July 23, 2019 ) In July, 2019 national bestselling author and filmmaker Leo Sullivan announced that his first feature film, Summer Madness, is now available on Amazon Prime to over 66 million subscribers. Amazon Prime is the future of film, giving Summer Madness longevity to expand its viewership on the focused platform covering the US, UK, Germany, Austria and Japan. Leo Sullivan has successfully positioned his first feature film for major exposure, putting it in direct competition with huge studio movies.
Written and Directed by Leo Sullivan, Summer Madness, the first part of a two part movie, tells the story of a twisted psychological thriller involving a hundred million dollar heist, which leads to mayhem, murder and mystery, all under the guise of love. After spending time in prison, where he falls for the sexy vixen, Summer, Jack Crawford is released and given back his life. When he is then accused of a vicious double homicide, one of the victims being Summer's husband, the last person in the world he would expect comes to his defense, his nemesis, Detective Bryce Wilson. Determined to prove Jack's innocence, Bryce finds himself snared in a deadly cat and mouse game as he races against time only to discover that an intricate web has been woven to entrap him as well.
Leo Sullivan, founder of Sullivan Productions, has written multiple bestselling novels; four of which he plans to convert into movies. Sullivan Productions produces both films and literary works. Since its inception, Sullivan Productions has grown to be one of the nation's largest urban publishing companies.
If you haven't watched Summer Madness, head to Amazon Prime today and give your review. Summer Madness is the first feature film to be released by Sullivan in 2019. The highly anticipated Summer Madness 2 is set to be released in the coming months. More titles will soon be announced. All media inquiries for Leo Sullivan should be sent to PRTeam@epimediagroup.com.
About Leo Sullivan
Leo Sullivan is a National Best Selling Author and Director who is notably known for being the owner of the nation's number one urban publishing house, Sullivan Productions. Sullivan has become one of the most recognized authors in his industry. He has written over 20 books which have reached the best seller list and has signed over 80 successful authors under Leo Sullivan Presents. His debut novel, Life (Life Without Hope), was a mega hit selling over one hundred thousand copies to date. It is still considered an urban street classic. Leo has been featured in elite urban publications around the world including Essence Magazine, KING Magazine, Don Diva, XXL, and more. With his superb background as a writer, Sullivan plans to expand on his experience in the industry and take his brand to new heights within the entertainment industry.
In addition to being the owner of the number one urban publishing company in the nation, Leo Sullivan is also the founder of Leo Sullivan Presents. Leo started Leo Sullivan Presents in an effort to write and direct his own films. On March 6,2019 Sullivan debuted his first feature film, Summer Madness, to a sold out audience in Atlanta, Georgia. The event was attended by Love and Hip Hop Atlanta's Rasheeda Frost, Kurt Frost and some of Atlanta's key entertainment industry players. Leo has already written and directed four other films which he expects the message of the stories to reach the masses.